Due to some scheduling issues, yours truly is forced to post a greatly-abbreviated mailbag this week. But trust me, I will make it up to you. I always do!
A few links for your morning...
--Western PA billionaire Joe Hardy officially tied the knot this weekend in Vegas with wife #3. Memo to you young Mondesi readers: get into the lumber business.

--One of the greatest stories you will ever read: the full account of Brian Jackson, AKA the "Steeler Impersonator". A few selected Pittsburgh girls don't come off too smart in this one.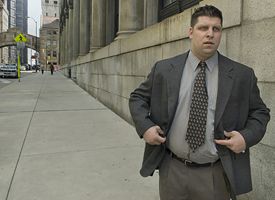 Yeah, looks just like Big Ben to me...
--Sports business guru Darren Rovell tells us that after all these years, Freddy Adu pretty much sucks.
--The Smoking Gun gives us the contract demands of Tiger Woods. I always love when they show these. If you're ever bringing Eldrick to your event, know that he likes to snack on bagels with peanut butter, he enjoys playing cards and action movies, and Elin drinks Fiji.
--Howard Stern sidekick and Pittsburgh lover Artie Lange is coming to Heinz Hall this June. Artie fans who don't shell out $13 a month for Sirius will be interested to know that he weighed in at a svelte 303 pounds this morning.

--A Colorado man shows off his Spiderman memorabilia collection, valued at a cool half-a-million. As a noted Spiderman nerd, I can only say that I envy this work of art. (And you'll also be interested to know that Spiderman 4 is going to happen. As if the $159 million opening weekend wasn't a hint that they should probably keep the franchise alive.)
--In a unrelated spider story, this arachnid caused a head-on collision recently in Tennessee.
--Craig Patrick throws his hat in the ring to ruin the Phoenix Coyotes franchise.
--The always-classy Lindsay Lohan is caught on camera doing cocaine.
--Keith Olbermann...stalker of Rebecca Lobo?
--The brains behind bigbennews.com has another surveillance site set up. And no, it's not for Daniel Sepulveda. Unfortunately, it's for a member of the Red Sox, sworn enemy of mine since I endured a year's worth of a Boston-bred roommate in college who ate, slept, and breathed Shawcks. But if you're a fan of Jason Varitek or the Red Sox, you will not find a better site.
--Phillies pitcher Freddy Garcia was injured in an incident involving an equipment cart. Former Pirate Oliver Perez was questioned as to his involvement and later released.
(ABBREVIATED) MAILBAG!
--From Ramon Mondesi, my younger brother:
Just wanted to show you the fantasy baseball world's perspective on the tragic death of Josh Hancock and see what you thought. I clicked on the Kip Wells profile over at CBS Sportline and this is the best that they could come up with. It's a shame if you ask me:

"Analysis: In the grand scheme of things, it's pitty to think about the baseball ramifications of this tragic event. However, Rich Hill and Kip Wells will both very likely become two start pitchers for Fantasy Week 5 (April 30-May 6)."
Yeah, the most important thing after a tragedy like this is the impact it has on fantasy baseball.
Seriously, could things get any worse for the Cardinals? They sign Kip Wells. Kip Wells! Their holier-than-thou manager gets busted for a DUI in training camp. They lose Chris Carpenter until August. They've scored a Pirate-esque 92 runs in 30 games. And then the Hancock tragedy comes out of nowhere. At this point, they're making the Steelers' 2006 title defense look legitimate.
Ramon continues...

Since I had already wasted a couple minutes seeing how bad Kip Dynamite was doing, I decided to see how The Human Pitching Machine (Josh Fogg) was doing in Colorado. CBS provides this rather concise description after his first good outing of the year:

"Analysis: Fogg is not good, but he played the part Wednesday in New York. Consider him a high-risk option for the deepest of NL-only leagues still. This one start won't change our minds. Fogg is meat."
Maybe I should start reading more of CBS Sportsline, because that's pretty dead-on. And yes, Fogg does resemble a Juggs machine from a number of angles.
--From Mondesi's House "Cleveland Correspondent" TJ:
Here's an athlete encounter story...a group of us were out at a popular Warehouse District haunt here in Cleveland, and Eric Steinbach [the "Boating While Inxoticated" former Bengal, Mondesi adds] walks in with a few people. I pointed him out to one of my friends, "Joe". His reaction, for some reason, was on par with an adolescent girl coming face-to-face with Justin Timberlake. It was little unnerving to me, as he was disturbingly elated. He immediately scurried over and started talking to him. Next thing I know, they're doing shots, chatting it up, etc. - I couldn't tell if Joe was trying to pick him up or not.

After their brief exchange, "Joe" comes back over, with an ear-to-ear grin. He looks like he's just had a session with Vida Guerra. He can barely contain his excitement. So I humor him and ask him how it went, and he exclaims, "Dude, I just did a shot with Eric Steinbach!!!"

At this time, my sister (let's call her "Beatrice") interrupts with, "Who's that?" (While she is a Browns fan, she isn't really well-versed in free agent signings). Joe looks like she just insulted his mother, so I fill her in, complete with contract info. Beatrice (who, at this time, was several Coronas deep) says, "Big f-ing deal...I'm gonna go tell him that until he does something worthwhile for the Browns, I will think he's way overpaid." And off she goes.

It's important to keep in mind that Beatrice is 5'1'', and Mr. Steinbach is 6'5'', 290. She had to crane her neck to look up at him. I didn't hear what exactly was said, but knowing my sister, she said everything she intended to. Eric and his friends look like a group of deer in the headlights, holding his hands up as Beatrice walks away from him, looking satisfied. A few moments later, he gathers his friends and leaves. "Joe" looks like he's going to cry; he asks Beatrice, "What did you say to him?"

Beatrice nonchalantly polishes off the rest of her Corona and says, "Find another man-crush, Joe. He's not that great; I bust his balls and he just stood there...and his friends are a bunch of tools." She then proceeded to order a round of shots.
This is where it's hard to be an athlete. If this corn-fed slab of meat says anything to TJ's sister, he's an alcohol-guzzling tough guy picking on a Cleveland girl tired of sub-par football. If he doesn't, he's not so hot because he just got dressed down by a Cleveland girl tired of sub-par football. Whatever. He's a Brown. He's on the same team as the weiner-toucher and the soldier...and new team of the ex-jailbird on the downside of his career. I'll enjoy watching all of them get beat up on this season, then watching as the Cowboys pick in the top five next year. I wish the season started tomorrow.
--Meg from Cresson, PA is not happy about hockey coverage:
This has been really bothering me lately and I just have to get it out there. Have you ever noticed that when there is a World Championship Tourney going on, it's only televised or reported on if it is baseball or the Olympics? As you probably know, the IIHF Tourney is going on right now and Russia just happens to be tearing it up. Malkin and Gonchar are both doing an outstanding job and I feel that they should be recognized. Especially Malkin he has been criticized about not producing in the playoffs. Yet no major news channel including ESPN has yet to breath a word of the Tournament and believe me it is the hardest thing to follow on the internet, apparently no one believes in highlights. It's just frustrating not being able to see the guys play, to bad the country doesn't value hockey as much as other sports. Hopefully you and others can understand my frustration.
Actually, I haven't noticed anything on the IIHF Tournament, probably because no one is covering it (thus proving your point very nicely). ESPN could give two craps about NHL hockey at this point, let alone the IIHF. They're more concerned with the AFL and the makeover of Cold Pizza. I actually watched them go to a split-screen during the Yankee game on Monday night to give an "update" on an AFL game between the Crush and the Rush. I'd be curious to see how many viewers actually clicked away from the Yankee game to the AFL game.
But I hear your point. I would certainly be down for some updates from the Pens that are playing. Does anyone know if
GwenJen
travelled to the tourney with Evgeni?
--David F. sent a bullet-pointed list of 14 questions, each one better than the next. But yours truly is on a bit of a cramped schedule, so we'll have to pick a few for this week's mailbag:
As for the Pirates, 13-17 really isn't that bad a record for a team with no offense, no fundamentals, and no closer. They're nearly guaranteed to lose any game where the opponent scores more than three runs, and even find ways to lose a few games where the opponent scores fewer than three runs. 13 wins is actually pretty impressive. How long until the starting pitchers revolt against the rest of the team?
My thoughts exactly. The record is so "good" because they're playing other garbage teams. If they had some real competition in their division other than the Brewhas, they might be 7-23 right now. And just think, only 132 more to go! We will!
PS: the revolt is coming. Any bets on an over/under of when Ian Snell decks Jason Bay after he grounds into another inning-ending double play?
Do you think Humberto Cota's shoulder injury and John Wasdin's thumb injury are anything like Ricardo Colclough's neck injury (as in, "We're benching you, but we'll invent an injury and put you on the DL so you don't look as bad")?
Unfortunately for Cota, Wasdin, and Coakley, a scenario where they don't look bad simply doesn't exist. Respectively, they are possibly the worst catcher, pitcher, and cornerback I've ever seen. I enjoyed the recent declaration of good health from Ricardo, though. If a scrub says he's ready to go and no one is listening, does he really make a sound?
Do you think Brady Quinn would have been a first round pick if he wasn't coached by Charlie Weis and named "Brady"?
I'll answer that with a question of my own: Do you think Eli Manning would have dictated who he would play for and how many millions it took to sign him if his name were Eli Smith?
Would the locals have been so fixated on the Steelers drafting Revis or Posluszny if they weren't "Pittsburgh guys"? It's the same logic by which everyone wanted them to hire Grimm.
Another great point. This guy is locked in tonight. Although I think the Steelers would have snagged Revis if they had the chance, I'm hoping the local angle had zero to do with it. I don't think the Steelers actually worry about that too much. If they did, they would have taken Bruce Gradkowski last year instead of
Camp Casualty Jacobs
. I think this is more of a fan/media thing.
To those who feel it's important to draft a player with local ties in any sport, here are a few names of players who did not grow up in Blawnox, West Newton, or Aliquippa:
Terry Bradshaw, Lynn Swann, Ben Roethlisberger, Hines Ward, Jerome Bettis (I think he was from Detroit), Mario Lemieux, Sidney Crosby, Roberto Clemente, Willie Stargell, Barry Bonds, and Brian St. Pierre.
As always, I encourage you to send your thoughts on anything to
mondesishouse@gmail.com
for the next installment.And please include your city and state if you can
.