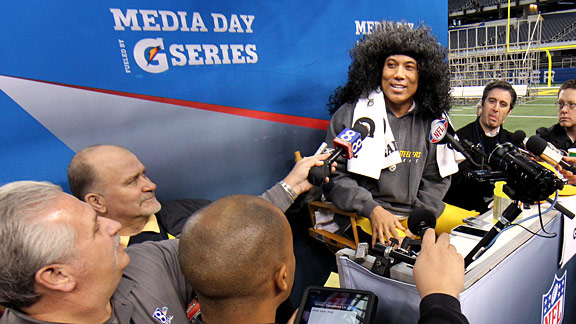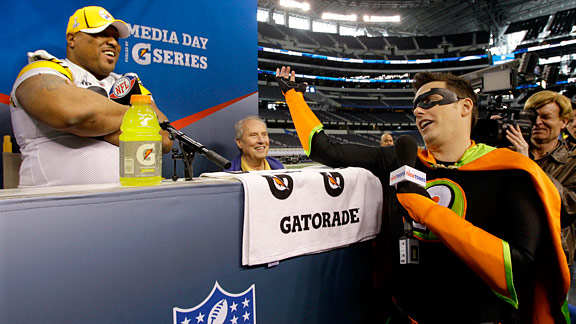 Some of the Tuesday/Media Day highlights from around the web:
JAMES HARRISON, playing the role of comedian, was
using the NFL's player safety issues as his personal punchline
: "I just want to tackle them softly on the ground," Harrison said about the Green Bay Packers, prompting laughter in the media. "If you can, can you lay a pillow down where I'm going to tackle them so they don't hit the ground too hard?"
MAURKICE POUNCEY told Deion Sanders that he has a
75% chance of playing in SB45
. This was the same Maurkice Pouncey walking on crutches in the post below.
On the contrary, DEADSPIN put Roethlisberger in their "
10 Worst Men in Sports List
" and passed along this story on the QB:
A brief story, related to us by a trusted source: Our scene is the annual celebrity golf tournament on the shores of Lake Tahoe, the American Century Championship. The year is uncertain. Our principals are a security guard, Ben Roethlisberger, and a handful of professional football types, among them one former safety who by the end of this story will be so disgusted with Ben Roethlisberger that he will want to do to him what he once did to so many slot receivers on a crossing pattern. We are out on the golf course, somewhere among the tall pines in the shadow of the High Sierras. Imagine sunlight glinting off the lake, a whitecap or two breaking in the distance, Charles Barkley slicing a one-iron into Truckee. And now imagine Roethlisberger approaching our guard and tapping the man on his shoulder. The guard turns. He smiles. He recognizes the quarterback and extends a hand in greeting. How do you do, Mr. Roethlisberger? This is a celebrity golf tournament, after all, where the swells mingle with the commoners, where in fact the whole purpose is for the swells to mingle with the commoners, to give some real-estate broker in the gallery a nice story about Greg Maddux to embellish for the boys back in Walnut Creek. It is a safe bet that the guard has shaken a great many hands today.




How do you do, Mr. Roethlisberger?




Our quarterback reaches into his mouth and, right there in front of God and John Lynch, presses something into the guard's offered palm. The guard looks down. It's a moist little wad of chewing gum.
ESPN's Mike Sando reported that KEITH BUTLER, linebackers coach for the Pittsburgh Steelers,
could be a prime candidate to become defensive coordinator for the Arizona Cardinals
. They're just determined to take a Steeler coach, come hell or high water.