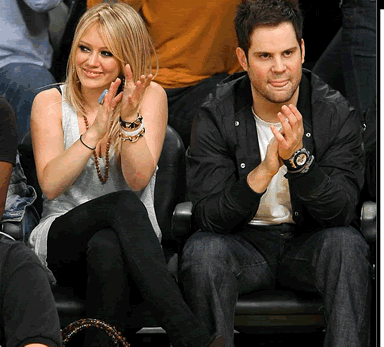 Looks like the odds of Hilary Duff hanging out at the Consol Energy Center this season just shot up by 1,000%, as the Penguins have signed her husband, Mike Comrie.
The Penguins inked the 29-year-old veteran of nine NHL seasons
to a contract today worth $500,000
. In 568 career NHL games, Comrie has posted 167 goals, 192 assists, 359 points and 48 power-play goals for the Oilers, Senators, Islanders, Coyotes, and Flyers. He's appeared in 32 postseason contests, with four goals, six assists, and 10 points.
Last season, Comrie notched 13 goals and eight assists in 43 games with Edmonton, where he made around $1.25 million on a one-year deal. He missed a good portion of the season to mono, leaving the team in mid-November and not returning until late January.

Off the ice, he married Duff, a.k.a. "Lizzie McGuire", on August 14, 2010 after a three-year courtship. The couple had a series of colorful engagement pictures that were largely circulated around the web and are probably not appropriate for this website, but are pretty funny nonetheless. I'm sure most of you can figure out a way to find them if you're so inclined.
Mondesi's House: The Director's Cut (more links, commentary, etc): twitter.com/mondesishouse
Email: mondesishouse@gmail.com