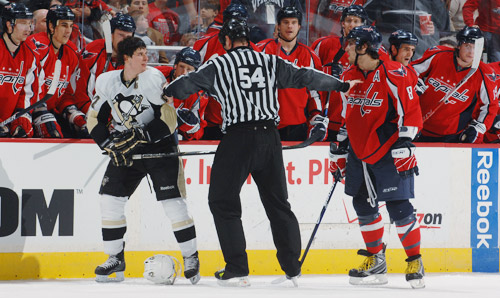 See the drama captured in the photo above? That's what HBO will be trying to replicate in their upcoming mini-series documenting the 2011 Winter Classic, to be held at Heinz Field on January 1.
The series will be under HBO's "24/7" reality banner, which has captured 12 Emmy Awards. "24/7" began
in 2007 with "De La Hoya/Mayweather 24/7," followed by seven additional boxing installments, and ventured into NASCAR with "24/7 Jimmie Johnson: Race to Daytona" in January.
With that as the case, it's not going to be an exact hockey replica of "Hard Knocks," but players from both teams will be miked up both on and off the ice. Having colorful personalities such as Sidney Crosby, Evgeni Malkin, Max Talbot and Alexander Ovechkin featured on a prominent cable channel with some genuinely compelling storylines should be a good thing for all involved, including the teams, players, HBO, and most of all, the NHL.