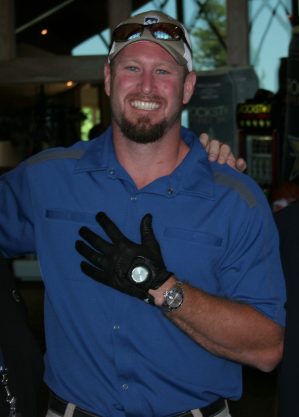 Game Manager-turned-talking head Trent Dilfer made headlines on this site earlier this season when he ranked the NFL quarterbacks as he saw them and
omitted Ben Roethlisberger from his "elite" and "superstar" categories
, much to the predictable outrage of myself and many of you.
But after his latest little "rankings" project, Dilfer's drawn the ire of a much larger figure - Ben Roethlisberger himself. You see, the ESPN employee just
ranked his top five 2009 QBs on Tuesday
, and the list looked like this:
1. Peyton Manning
2. Drew Brees
3. Eli Manning
4. Brett Favre
5. Kyle Orton
Supposedly, this was a list based on winning and nothing else. Which begs the question of why to bother making a list in the first place and not just rank the league's best quarterback W-L records. But the story here is not my umpteenth post on this dead horse or why we would care what Trent Dilfer says in the first place. It's about what Roethlisberger said today in so many words as
captured by Scout.com's Jim Wexell on Friday
.
From the middle of a mob of reporters, someone asked Steelers quarterback Ben Roethlisberger why his pump fake has been so effective this year.

"I have no idea," said Roethlisberger.

It was a surprisingly terse answer from a guy who's become more thoughtful with the media as he's come of age as a team leader.

As the mob dissipated, the reporter told Roethlisberger that he's from ESPN.

"I know you are," Roethlisberger said as he walked away. "And tell Trent Dilfer to get his stuff together."
This should be evidence for all the people out there who believe that the players live in some sort of soundproof bubble in which they don't hear what's spoken about them. They do. They read newspapers, they watch ESPN, they scan the net, they listen to talk shows. It would be hard for anyone to ignore all the football talk, especially in a city like Pittsburgh, because news on the team is

everywhere

.

But honestly, I'm glad to hear about this rare look behind the Big Ben Curtain. Different players are motivated by different things - namely money (most guys in a contract year), revenge (the QB facing the Steelers on Sunday), and/or proving people wrong (HINES WARD!)

This little story would seem to at least place some portion of Big Ben's motivational forces into the third category, which is fine by me. And as long as a voice exists to tell Roethlisberger that he's not the league's top dog, I hope that means we can expect more of what we've seen. In fact, along with hard work and good coaching, that's probably been one of the contributing factors to his enormous success to this point in his career. So to Trent Dilfer, Peter King, and everyone else I've quoted over the last few years, I say to keep it up. You're only helping to fuel the fire.

**HUGE tip of the cap to the always-on

Big Ben News

for the heads up.

They are the Ben Roethlisberger of Ben Roethlisberger websites.

BREAKING: BIG BEN NOT AN ELITE QB

[MH]

Kyle Orton better than Tom Brady and Ben Roethlisberger? So far in '09, that's the case

[USA Today]

Red-hot Roethlisberger in rarified air

[Scout.com/Steel City Insider]

Email: Mondesishouse@gmail.com

Twitter

:

twitter.com/mondesishouse

Facebook

:

Facebook Group