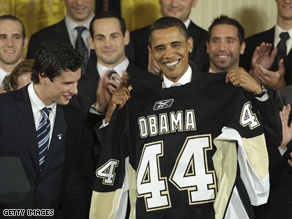 Here's your first shot of Barack Obama's visit with Sidney Crosby and the Pittsburgh Penguins, who made a visit to the White House just two days before the start of training camp and just two hours before the start of the Steelers' title defense. As President Obama said today, "With the Steelers and Penguins, I guess it's a good time to be a sports fan in Pittsburgh." Truer words have never been spoken.
Obama, who was given a #44 Penguins jersey, singled out Crosby, owner Mario Lemieux, Coach Dan Bylsma, and Evgeni Malkin (who was taking photos on his camera phone while the President addressed the team) during his speech. Of Lemieux, Obama said, "Having Mario Lemieux here is a pretty big deal. He won a couple of these trophies as a player, but this is his first as an owner. He's still got a big smile on his face, so I guess it feels good this way too."
While in the Land of Ovechkin today, Crosby, along with Bill Guerin, Jordan Staal, Marc-Andre Fleury and Brooks Orpik, took part in the 'Hockey In The Hood' program. Said Sid of the experience: "They said there were a lot of Capitals fans out there. They said I was their second favorite. It's fun. Kids in general, no matter where they're from, or where they're playing. They're out there because they love it, so it doesn't matter. They're easy to teach, they want to learn. It's just, it's fun."
More photos and video will be posted as it becomes available. But I think we'll be occupied for the next few hours regardless.
Stanley Cup Champion Penguins Visit White House

[WPXI]


President Welcomes Stanley Cup Champs To White House

[WTAE]

Email: Mondesishouse@gmail.com

Twitter

:

twitter.com/mondesishouse

Facebook

:

Facebook Group