As you've probably figured out, I'm still trying to find a rhythm and adjust to life post-Cup. There's still mountains of email to sift through thanks to a day of posting nothing but a request for people to send me email, so that's pretty much a problem of my own making. Long story short, that means The News is going to be broken into two parts. Keep sending stuff in for part two, and I'll announce the Penguin photo winners in the next installment.

"I live in northern Virginia, and work in downtown DC, about 3 blocks from the White House. So, a few weeks back, when the Steelers came to town for their visit, a couple of my buddies (who are also Pittsburgh natives) and I walked down there to see if we could catch a glimpse and get some autographs.
Turns out we were able to find the area in the back of the White House where all of the team busses were parked, and we waited patiently with about 15-25 other Steeler fans until the team was finished and returned to the busses. While we were waiting, there were several cops standing around waiting to escort the Steelers from the White House to Walter Reed Hospital in Arlington, VA. They were all pretty nice guys, and all were really glad to be there. In fact, most of them were native Pittsburghers who pulled some strings to be on Steelers duty that day.
This pic is of a couple of the nicer cops we met, who told us the story of how they went up and down the aisles of the team busses before the Steelers got to the White House, just so they could get autographs. They had no problem gloating to us how they can abuse their power to get cool stuff like Steeler autographs!" --
Anonymous
"The perfect Pittsburgh postcard" --
Bob F., Florida
Sid coming out of PNC Park on Sunday --
Eric L.
VIDEOS OF THE WEEK
The TribTron celebration of Tyler Kennedy's goal in Game Four:
Did you know Alex Ovechkin led the NHL in scoring this year? Because I could've sworn it was Geno Malkin.


NHL/PENS:
--Pens commemorative SI issues
hit the shelves today
[Kiss 96.1 Morning Freak Show Blog]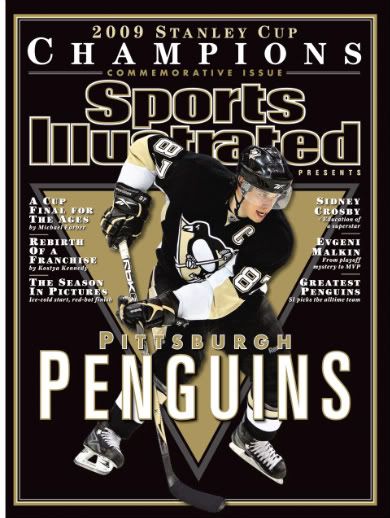 NFL/STEELERS:
--
Big Ben shot an 81
on Bethpage Black last week. But fear not, Yinzers: he's not planning on trying for a tour card anytime soon. In fact, he said on
PTI
last night that he wants to win five rings. That's right. Five. [PB&G]
MLB/PIRATES:
--
Buccos 8, Twins 2
last night in the Homerdome. Andrew McCutchen (who is hitting .339) hit his first career dinger, and both LaRoche brothers went deep. Team Huntington is 31-34 in mid-June. That magical .500 season is right around the corner. Now there's a parade I can't wait for. [ESPN]
PITT:
--Dante Taylor and Ashton Gibbs were
named to the
USA Basketball Under-19 National Team Trials Roster, which is coached by....Jamie Dixon. Let's hope they don't get cut. [PittsburghPanthers.com]

--Dixon is not interested in the dumpster fire also known as USC basketball, so we can finally put that story to bed. [ESPN]

MISCELLANY:
--Dave Attell (of
Insomniac
fame) is one of the best stand-ups in the country, and
he'll be in Pittsburgh
for a few shows this weekend. [Symfonee.com]
--My take on the
Artie Lange/Joe Buck train-wreck
: I'm not a Buck fan....at all. I think he's a horrible choice to host a talk show on HBO. That being said, Artie (at this point in time) was an equally bad choice to have as a guest on Buck's show. I'm a frequent Stern listener, and Artie's behavior has been erratic the last few weeks, as he's entered therapy and attempted to finally clean up his life. He's verbally assaulted several low-level (and I mean
low
level) Stern Show guests like Amy Fisher's husband and Yucko the Clown in the past two weeks, so I'm not completely surprised by what happened on Buck's show. I've always considered myself an Artie fan and have attended his Pittsburgh shows in the past, but this is a guy that's not fit to be on the air right now, be it HBO or even Sirius radio. I didn't think Artie's Buck appearance was funny or compelling, I actually thought it was pretty sad.
Email: Mondesishouse@gmail.com

Twitter

:

twitter.com/mondesishouse

Facebook

:

Facebook Group