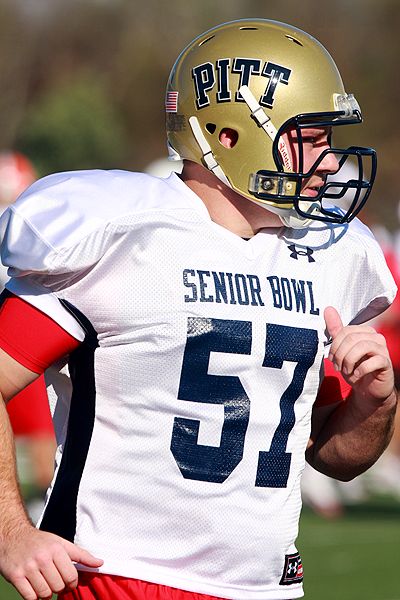 The Steelers have a pretty good track record with undrafted free agents, so these announcements come with much anticipation each year. So far, the team has
picked up nine,
including:
LS Mark Estermyer (Pitt)
LB Tom Korte (Hillsdale College)
T Ramon Foster (Tennessee)
QB Mike Reilly (Central Washington)
WR Tyler Grisham (Clemson)
S Derrick Richardson (New Mexico State)
LB Andy Schantz (Portland State)
WR Demiko Goodman (Georgia)
QB Kevin McCabe (Virginia) [As readers have pointed out and I neglected to mention, McCabe played at Pine Richland HS and threw TDs to Pirate prospect Neil Walker. And he graduated from Cal U, not UVA. He
started out at UVA and transferred to Cal
.]
OL C.J. Davis became the latest Pitt Panther to catch on, landing with Carolina. Also, former Pitt DL Rashad Duncan signed with Tampa Bay. WVU guard Greg Isdaner was signed by Dallas, and fellow lineman Ryan Stanchek signed with Atlanta. As far as the Nittany Lions, DE Maurice Evans went to the Giants, DE Josh Gaines signed with Philly, WR Jordan Norwood was picked up by Cleveland, safety Mark Rubin signed with St. Louis, and LB Tyrell Sales went to Indy.
Some notables from around the league:
Missouri QB Chase Daniel - Washington
Boise State RB Ian Johnson (the
proposal guy
) - Minnesota
Michigan State QB Brian Hoyer - New England
Alabama QB John Parker Wilson - Atlanta
Texas Tech QB Graham Harrell - Cleveland
Samford QB
Alex Mortensen
(Chris Mortensen's son) - Tennessee
and Texas WR Quan Cosby, who
watched the draft with Bill Cosby
only to get drafted by no one, finally got picked up...by Cincinnati.

2009 Steelers Undrafted Free Agent Signings
[Steelers Depot]
Send your news, tips, and links to Mondesishouse@gmail.com.