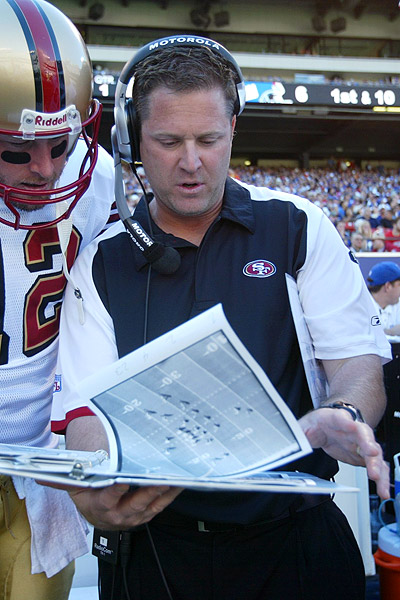 KDKA is reporting that after a day of interviewing, Pitt
formally offered Frank Cignetti Jr. the position
of offensive coordinator vacated by Matt Cavanaugh. As for previous candidate Noel Mazzone, it appears that he's closing in on a job with the Cleveland Browns, and I don't have to tell you about the prestige that carries.
Here's what I know about Frank Cignetti Jr.: he's from Pittsburgh, which is always worth double points;
his dad
coached WVU and IUP; offensive guru Jeff Tedford somewhat limited his control over the offense while at Cal, despite his title of coordinator; and Butch Davis relieved him of his duties once he took over at UNC for
that coach who didn't play Willie Parker.
But look at the way he's instructing Trent Dilfer in that picture. He sure looks like he knows what he's talking about.
Cignetti has changed jobs four times in four years: in 2005, he was at Fresno State; in 2006, he was at UNC; in 2007, he was with the 49ers; and in 2008, he was at Cal. Is he so fantastic of a coach that he keeps rising up the coaching ladder, and if that's true, is that a good thing or a bad thing for Pitt?
CIGNETTI OFFERED THE JOB
[PSI]
Send your news, tips, and links to Mondesishouse@gmail.com.