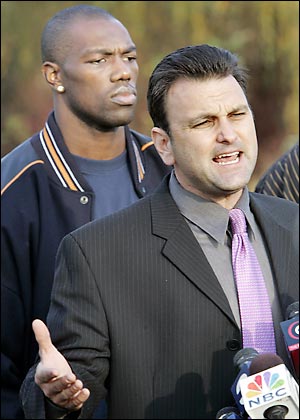 PFT is reporting that Shady McCoy has chosen an agent, and
it's Drew "Next Question" Rosenhaus.
McCoy joins a
lengthy client list
of colorful characters, including Terrell Owens, Chad Johnson, Edgerrin James, Anquan Boldin, Plaxico Burress, Willis McGahee, Antonio Pierce, Jeremy Shockey, and Kellen Winslow II. Rosenhaus also reps a few Steelers, including Lawrence Timmons, Justin Hartwig, and Bryant McFadden.
Like him or not, Rosenhaus represents a ton of high-end NFL players, many from the Florida area. He apparently gets the job done for his clients. But I wonder how high he could potentially vault Shady, considering he got McGahee into the 23rd slot just months after he tore his ACL, PCL, and MCL? As the video says, "next question".
MCCOY CHOOSES ROSENHAUS
[PFT]
Send your news, tips, and links to Mondesishouse@gmail.com.