STEELERS (13-4) 35
CHARGERS (9-9) 24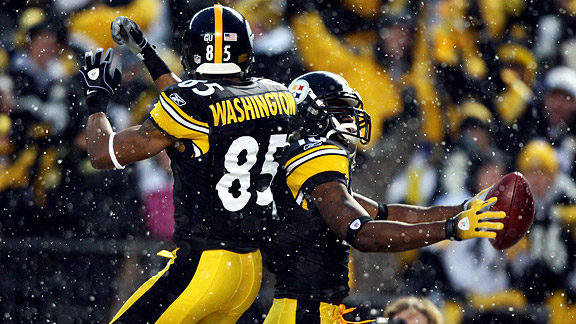 ROETHLISBERGER 17-26, 181 YARDS, 1 TD
PARKER 27-146, 2 TD
WARD 4-70
How do you do it? How does someone summarize what went down in front of 63,899 crazed fans at Heinz Field on Sunday? Whatever I write, whatever anyone writes, can do the Steelers' dominant performance against the San Diego Chargers no justice. For all the trials and tribulations of 2008, from the schedule to the injuries to the arrests to the smallest of controversies and distractions, the team delivered their finest performance to date when it mattered most. But we all must keep one thing in mind: one, and hopefully two, even bigger tests remain on the horizon.
Sunday was about redemption. It was redemption for Ben Roethlisberger, who silenced some peristent critics with throws most quarterbacks not dare dream about. He exhibited a level of zip and accuracy that had not been seen for quite some time, due to a myriad of factors. The time off definitely did him well.
Sunday was redemption for Willie Parker, totally written off by some members of Steeler Nation. 27 carries. 146 yards. Two touchdowns. And the look of a confident running back who was healthier than he's been in months.
Sunday brought some level of redemption back to the much-maligned Steeler offensive line. The main target of Steeler-related ire all season dominated the Chargers, holding the ball for an entire quarter with the exception of one play (albeit with some help from their teammates on the defensive and special teams units).
Sunday was redemption for Santonio Holmes. A guy who made a major-league screwup with a drug-related arrest in-season scored on a first quarter punt return that might very well have saved the game for the Steelers, who dug a quick 7-0 hole just moments into the contest.
And finally, Sunday was redemption for Mike Tomlin. In case you've forgotten, the Steelers hosted (and lost) their first (and his first) playoff game last season. For the big regular season games that he's won, a postseason victory had proved elusive to this point. While some can second-guess some of his dice-rolling calls, such as the fake punt and the fourth-and-goal on the goal line call, no one can argue with a 35-24 win that wasn't even
that
close.
So what next for the 2008-2009 edition of the Pittsburgh Steelers? Looking ahead to an all-Pennsylvania Super Bowl or a possible reunion with Ken Whisenhunt and countless others with Pittsburgh connections might be fun, but we're not quite there yet. What lies ahead will be a game that may never be matched in terms of intensity. To meet the hated Baltimore Ravens with a trip to the Super Bowl on the line in the dead of a Pittsburgh winter at Heinz Field is a script right out of Hollywood. The only question is whether or not it will have a Hollywood ending for the Steelers. Because Baltimore's got one thing on their mind: redemption.
Let's start the countdown until Sunday.
And now, the bullet points...
--So I'm in the car en route to my Steeler viewing party on Sunday and I have DVE on. I hear about Jerome Bettis participating in the coin flip, I hear Styx sing the National Anthem, and then I hear Styx sing the theme song of the defense, Renegade! Of course, upon my arrival, I'm told that none of this was shown on the CBS broadcast. So let me ask a brief question. Why not???
I know how important it is to get the last few minutes of face time in for Shannon Sharpe and company, but honestly, why doesn't a network buck this trend and show some extended goodies from the pregame? Am I alone in thinking this?
-As I sat through numerous shots of Ladainian Tomlinson on the Charger sidelines (in street clothes, as they say), it hit me that fake LT (there's only one real LT) doesn't have much of a postseason track record, given all of his regular season success. To
Pro Football Reference
...
Well, not counting Sunday's game, which I believe was the first he's missed since 2005, Tomlinson's played in six playoff games. Of the six,
he's run for 42 yards or less four times.
In fact, they've been in succession, and they're his last four playoff games:
25, 42, 28, and 5.
He's had an 80-yarder (2005 loss to the Jets) and a 123-yarder (2007 loss to the Patriots), but that's it for the running back that's supposedly the best of his generation. And sure, I know the guy's had some injuries, but there always seems to be some aura of discontent/confusion/misinformation/misunderstanings around specifically
his
playoff injuries. There's always an appearance of some hard feelings. It's not a good vibe.
--On the other hand, Hines Ward,
I take my hand off to you
. Few men on this Earth can claim that they've been such a big part of so many important Steeler games. But Hines came through once again on Sunday to the tune of four catches and 70 yards, leading the Steelers in both categories. On the 41-yarder, I could've sworn that he was smiling as he was running with the ball.
--As you probably noticed, there was a play late in the game that caught my eye. Rather than go on about it, I'll let an emailer speak for me...
From
Ryan J. Jones of Harrisburg
:
"Okay… I love my Steelers, I do… I love my fellow Steelers fans just as much.
But I'm sorry… just watching the game here and something monumental could have just happened for Limas Sweed and the 10 people who bought his jersey this year.
Had he caught the ball that Byron Leftwich just threw him in 'garbage time', it would have totally redeemed both his season and the 10 people who bought his jersey.
Now that he has, the Steelers need to cut him as of yesterday, and those 10 people need to be stoned in front of the 'Terrible Tree' down at the court house."
Well said, my Steeler-loving friend. Well said. I try not to be overly-critical of the rookies, but...wow. I'll leave it at that. For his sake, I hope Limas has the best offseason of all-time.
--So are people going to jump off the Darren Sproles bandwagon after a line that reads "11 carries, 15 yards"? So much for him hiding behind the Chargers line and sneaking through for chunks of yards, like some suggested might happen.
--How about this aspect of the game that went by the wayside:
the vaunted Mike Scifres was outkicked by Mitch Berger
. That's right, by a 48.0-47.2 margin, Berger came out on top, and to make his day even better, not one opponent spit in his mouth. Now that's a good day by anyone's account.
--For a guy who was supposed to be distracted by a DUI arrest, Vincent Jackson made more plays than I thought he was capable of.
--There was just some part of me that prayed the name "
Legedu Naanee
" didn't become a part of the Pittsburgh sports lexicon for all the wrong reasons. He fit the profile, with an eight-catch regular season and the extra bonus that no one's ever heard of him at any level of football. Luckily, his fourth-quarter TD turned out to be nothing more than a garbage-time score, and not the second coming of Alfred Pupunu or Francisco Cabrera.
--If I may take umbrage with one aspect of Sunday's gameplan: four touches for Carey Davis in such a game is waaaaaaaay too many. He reponded with seven yards, featuring a long of six. I think that sort of makes my point.
--And another beef: sorry guys, but you've gotta convert on fourth and an inch. But I can live with the fact that nobody's perfect after an overall performance like that.
--Is there a rule that holding is never called on the guy blocking James Harrison, or is it OK to grab his jersey?
--The biggest change from this game as opposed to past Steeler playoff games was the fact that the other team made the biggest mistakes. Special teams touchdown allowed? Check. Fumbled punt return? Check. Back-breaking interception? Check. That's the only area of the game where the Chargers went three-for-three.
--The playoff formula has become incredibly simple: don't turn the ball over and don't screw up on special teams. Look at the teams who've lost. They've been atrocious at protecting the ball. Miami...Tennessee...Atlanta...Carolina....should I go on?
It's why a guy like Joe Flacco (who's no longer a rookie, according to Dan Dierdorf), is able to complete
20 passes at a putrid 44% rate
in two games and somehow get to the AFC Championship. He's not doing anything spectacular. He's simply taking care of the football. And they may qualify as spectacular, given the failures of other quarterbacks who will be watching the games on TV next weekend.
--People really seemed to enjoy the "
Get Fiiiired Up
" video gallery on Saturday, and the clips keep coming in. But rather than destroy everyone's bandwidth yet again, let me pick one out of the crowd, sent in by
John M. from Florida
: it's some Steeler fans from the Bahamas driving through the Fort Pitt Tunnel and seeing Heinz Field for the first time. Sometimes, we take that view for granted, but on the occasions when I am in the city, it still manages to "wow" me.
--Tons more coverage of "World War III" throughout the week. Check back often for the latest updates. And please, feel free to add to the discussion.
Send your news, tips, and links to Mondesishouse@gmail.com.