Nobody asked me, but...
2009 is off to quite the interesting start in terms of local sports. I could talk about the
probable #1 team in the county
, I could talk about an upcoming playoff game at Heinz Field, or I could talk about one of 2008's Stanley Cup finalists hitting rock-bottom. We have no shortage of topics. It's a good time to be blogging. Let's attempt to tackle all three.
--I'll start with the Steelers, who get the streaking San Diego Chargers at Heinz Field next Sunday. As you and I remember,
these teams met before
, and the game ended like this:
There was snow, there was Jim Nantz, there was 115 yards of Steeler penalties, and there was the first 11-10 final in NFL history. There was also a controversial call at the end of the game that
swung $64 million in favor of the bookies
. Willie Parker and Hines Ward each generated over 100 yards of offense, Phil Rivers was picked off twice, and Darren Sproles was merely a box score footnote.
But that was then, and this is now. Now, Sproles is another good game or two away from appearing on a Wheaties box. Now, Ladainian Tomlinson wonders on an hour-to-hour basis
whether or not his groin is attached
. Now, Pittsburgh gets a chance to redeem the loss in the 1994 playoffs that cost them a trip to the Super Bowl. And now, we get to see if any cobwebs linger in the noggin of Ben Roethlisberger after ending the regular season on a Heinz Field motorized cart.
It should be quite the intriguing matchup. As far as probable media storylines go, we've got the obvious "Roethlisberger vs. Rivers, 2004 draft revisited" angle. There's the aforementioned 1994 rematch, so plan on ample references to Dennis Gibson throughout the week. There's the ongoing magnifying glass of Norv Turner's less-than-stellar playoff resume. But let me be the first one to cite something absurd that I happened upon doing research:
The San Diego Sports Curse
.
San Diego has a sports curse? I'd consider myself a pretty big sports fan, and that's news to me. And even better, they're claiming the
roots go back to the 1970 trade of Lance Alworth to the Cowboys
. Well, I guess every loser city needs a curse excuse for inept on-field and front-office results. I'm surprised the Pirates' Curse of Barry Bonds hasn't caught the attention of the mainstream yet.
Like most of the playoff games, this one is going to come down to ball control and turnovers, not Roethlisberger and Rivers trying to re-create
Ken O'Brien vs. Dan Marino in 1986
. Look at the other games. Chad Pennington throws seven picks all year and four versus the Ravens. Not surprisingly, the Ravens move on despite the presence of a rookie QB who completed nine balls. all day. Why? Simple - he didn't throw four picks. OK, so he's a Game Manager. The fact of the matter is that he's moving on while Chad Pennington stares at those two Comeback Player of the Year trophies and wonders what went wrong.
Look at Matt Ryan - he threw two interceptions and lost a fumble against a team that people were laughing at after their
40-point loss to the Patriots
. But so it goes. Cardinals move on, Falcons go home. It's not that tough of a formula to decipher.
The Steelers need to play smart (especially on special teams, which usually kills them this time of year), slow the Chargers' running game, take care of the football, try their best to win the battle of field position (which is tough if you watched San Diego's punter place four balls inside the 20), and keep the ball out of the Chargers' hands. Is that a lot to ask? Sure it is. But that's the recipe for a playoff victory, where nothing comes easy.
Now sit back and enjoy way too many references to
Anchorman
in the next seven days.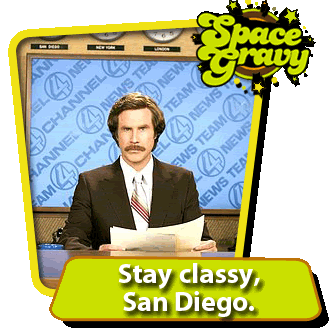 --Now let me shift my attention to what should be the #1 team in all of the land, the Pitt Panthers. No, I'm not referring to the football team, who managed to get
upstaged by the Village People
on New Year's Eve; I'm talking about the basketball team, which was
all over the Georgetown Hoyas
on enemy turf on Saturday.
Pitt's wooed us before, but for some reason I think this edition of the Panthers might be different. For openers, the stars aligned this week and took down the two teams ranked ahead of them. That should give Pitt their first #1 ranking in 101 years of playing basketball. I'm sure there's been a curse all this time, but I was just too lazy to look it up.
Past history indicates that Pitt will have a great regular season, spend all their energy winning the Big East tournament, and bow out in the Sweet 16 to some mid-major. Hopefully, 2009 won't play out like
Groundhog Day
once again.
-By the way, quick story which I can justify using by the G-town connection: I'm doing research for my "real" job the other day, and I need to look up some stuff on John Thompson. I'm reading the expected information: 1984 NCAA Championship, six Big East tournament championships, blah, blah, blah...and then I run into this Wikipedia entry:
Taking on the Most Powerful Drug Lord in D.C.
Wha? I must have missed this, not surprising considering it happened when I was, oh, about 12. But anyway...from Wikipedia:
"In the late 1980s, Thompson got word that several of his players, including Alonzo Mourning, were associating with noted DC drug lord (and avid Hoya fan) Rayful Edmond III. At the height of his empire, Edmond became very friendly with several Hoya players. When Thompson received word of what was happening, he sent word through his sources to have Edmond meet him at his office at Mc Donough Gymnasium.
When Edmond arrived, Thompson was initially cordial, and informed Edmond that he needed to cease all contacts with his players post haste, specifically John Turner and Mourning, both of whom had befriended Edmond. When Edmond tried to assure him that his players were not involved in anything illegal, the 6'10" Thompson stood up and pointed his index finger between Edmond's eyes. A profanity-laced tirade ensued, in which Thompson told Edmond he didn't give an (expletive) who Edmond was on the street or his crew's violent reputation; he had crossed the line with his players, and that he wasn't going to let Edmond (expletive) up their lives. If Edmond had any sense of intelligence, the coach continued, he'd be wise not to (expletive) with Thompson. Thompson's parting words to Edmond before dismissing him was that he was not going to repeat himself: Stay the (expletive) away from his players, or Edmond would suffer serious consequences. It has even been suggested that Thompson told Edmond he would '(expletive) kill' him if he did not leave his Hoyas alone, and 'dared' Edmond to try him. By all accounts, Edmond never associated with another Hoya player on a personal level. It is believed that Thompson is the only person to stand up to Edmond without consequence, initially causing some shock and surprise that there was no reprisal against Thompson for standing up to Edmond. While he felt embarrassed and humiliated by the encounter, Edmond could not bring himself to seek any retaliation whatsoever. Thompson was a black man Edmond truly admired and revered, and he respected the honor, presence, and leadership role that Thompson commanded in the black community. Aside from that, Thompson's imposing stature and celebrity status likely would have made any such attempts at retaliation back fire."
Wow. So in addition to learning that Thompson spent two years as a Boston Celtic backing up Bill Russell (where he earned the nickname, "The Caddy", as well as two championship rings), I find out that John Thompson intimidated the city's most powerful drug lord. Which goes to show that you never know what you'll accidentally bump into on Wikipedia. And by the way, I would definitely pay $10 to watch that story as a two-hour feature film.
--Finally, we come to the Pens. Koz
summed up their situation nicely on Saturday,
which was followed by their
hitting the virtual mat that afternoon
. When the high point of a Pens game is Sid jumping a guy at the faceoff, it may be entertaining, but it's not a good sign.
It's clear that this mix just is not working. There's little time to change much for the next game, a 7 PM matchup tonight with the Rangers, followed by your regularly-scheduled Colby Armstrong lovefest on Tuesday. But the season looks to be slipping away, so Ray Shero might have to go into his bag of tricks, and fast. There were some
interesting remedies suggested in the comments section
, but I think it's pretty clear that this team is going to have to part with some of their luxuries if they want to remain competitive. This is the NHL, not the NBA. You can't win three championships with two superstars and Devean George. You need a deeper roster to compete, and with complimentary parts. The Penguins' biggest complimentary part of last year is now a Red Wing. Another complimentary part is wasting away in Tampa Bay (and getting written about at length in this week's
ESPN: the Magazine
). This is a team that lost far more than it gained in the offseason, and their player ledger is out-of-whack. Unfortunately, it's going to take something dramatic to right this wrong. And it might not happen overnight.
--With my previously-mentioned year-end site evaluation now in the rear-view mirror, here's the formula that I'm going to try out for at least the early stages of 2009: a weekly column, to satisfy my desire to write at greater length; top-10 lists probably two or three times a month; and some mix of interviews and field trips, to mix it up a bit.
While I get very little creative satisfaction from them, I realize that "link dumps" are wildly popular, especially with those trying to "work". To compromise, I promise at least one large link post weekly. And as compensation for sending in links, I will be drawing one name each week from the emailers to receive a prize from the Mondesi Mystery Box. And speaking of prizes, check back later today as we unveil the finalists in the Cope/Hope Photoshop Challenge.
Until then, you stay classy, San Diego.
Send your news, tips, and links to Mondesishouse@gmail.com.