As part of
Mondesi's House Readers Rule Week (Sponsored by Champion)
, I decided to pick a few of my loyal emailers out of the crowd and corner them for a few of their views on some "big-picture" Pittsburgh sports questions. Luckily, they took me up on my offer and contributed to what I think is a really interesting discussion about Pittsburgh sports.
This will be divided into two parts, with a completely different panel and different questions coming later in the day.
The members of panel Group One are as follows:
Mike Viola of Lawrenceville, Chris Flecker of Brooklyn NY, Steve "Steve is Live" Braband of Connecticut, Greg Nardine of Pittsburgh, John Martinez of Brandon FL, Brian B. of Pittsburgh, Steve Beall of Mantua NJ (by way of Monongahela), and Paul O'Donnell of Sheraden in Pittsburgh's West End.
This group will be answering four questions:
1. Who is your all-time favorite Pittsburgh athlete?
1A. Who is your current favorite Pittsburgh athlete?
2
. What is your all-time favorite venue to watch a sporting event in Pittsburgh?
3. What team would you consider your most hated rival of a Pittsburgh team?
Their answers are below. And please, feel free to add your two cents to any or all of these questions in the comments section.
1. Who is your all-time favorite Pittsburgh athlete?
MIKE:
So many "ath-e-letes" (channeling Joe Namath here) to pick from, but Jack Ham is my favorite. What a resume: 9-time all-pro, 8 pro bowls, 4 super bowls, hall-of-famer (both college and professional). He is always in the discussion when "best LB ever" is brought up. Ham is generally acknowledged as one of the smartest players in football. He did all of this with a quiet, "draw-no-attention-to-yourself" demeanor that Pittsburgher's love. Extra points for being a local boy who was born in Johnston and still lives outside of Pittsburgh. Once in a game against the Bengals, Jack was beaten on a TD pass to Bengals RB Pete Johnson. The comment in the paper the next day by then Steelers Def. Coordinator Woody Widenhofer was that it was honestly the first time he ever remembers Jack being beaten on a play. This occurred when Jack was in his 12th and last season with the Steelers and was coming off of foot surgery. Class, smarts, skill….Jack Ham had and still has it all. Best of all, he has a nickname like no other - "Dobre Shunka". Very good Ham indeed.
[Honorable Mentions: Mario (for obvious reasons), Dan Marino (went to the same high school as him), Tony Dorsett (if only the Steelers had drafted him), and Bruno Sammartino (I used to be a wrestling junkie)]
CHRIS:
Mario Lemieux. Easy. No other athlete has meant more to their organization's success. He dominated on the ice every season and has sacrficed off it for the better of the Pittsburgh area. I probably would've picked a SuperSteeler, but I wasn't around for them.
HONORABLE MENTION: Jerome Bettis
STEVE BRABAND:
Mario Lemieux. He is the main reason why I am an enormous hockey fan. If you are ever bored at work, youtube " Mario Lemieux Goals" - that will keep you busy for an hour or two.
Oh yeah........and......he beat Cancer. He.Beat.Cancer.
GREG:
Not growing up in the 60's and 70's that eliminates the Francos, Bradshaws, and Clementes. So my next choice would have to be Jerome Bettis. He was Steeler football for a better part of 15 years and brought the Lombardi trophy back to Pittsburgh where it bridged a generation gap with parents and grandparents who were so accustomed to seeing them in the 70's. A very close second place would have to be Mario because he brought me my first championship.
JOHN:
I really don't have just one, but for the sake of being interesting I'll come out of left field (or in this case from behind home plate) and say Tony Pena. Ok, let me explain. I was kind of small when he played for the Pirates, and honestly I didn't know much about baseball at that point except for two things: The Pirates sucked, but Tony Pena was really good. So he was, basically by default, my first favorite athlete. Then one day, I was downstairs playing with one of my neighborhood buddies when my dad yelled down the steps and told me that the Pirates had just traded Tony to St. Louis for Andy Van Slyke and Mike Lavalliere (who, at the time, I just knew was an obese catcher because I had his baseball card for some reason). Upon hearing the news, I began screaming and crying and basically threw a tantrum. Now, in the years since that fateful day I've screamed and yelled and have thrown plenty of tantrums (except these ones usually include less actual crying and more beer and cursing) over games involving my favorite Pittsburgh teams, but Tony Pena was the only person to ever cause me to completely flip my wig over a personnel decision (not even Cam Bonifay or Dave Littlefield can say that!)
BRIAN:
In my lifetime of watching Pittsburgh sports, I've had the opportunity to see some of the best (see Mario, Bettis, Crosby, etc.) and some of the worst (see Kordell, Cliff Stoudt, the Pittsburgh Pirate franchise post-1992, etc.). My all-time favorite Pittsburgh athlete, however, is Kent Tekulve. Yes, he of the dark glasses, side burns, flat Pirate hat, skinny frame and unbelievably awesome delivery. In the early 1980's my life revolved around the Pirates (I was not even 10 yet so I didn't know about the whole cocaine phenomenon going on in the clubhouse). Teke was my favorite player. The first Pirates game I attended was in 1982- a double header against San Diego. I was sitting on the first base line with my dad when Teke came in sporting the bright yellow uniform. I don't know what it was, but I became obsessed with all things Teke from that point on. I even delivered imaginary underarm/side deliveries from the mound while playing tee ball, when the pitcher had to pretend they were pitching before the batter could swing. Looking back now, Tekulve reminds me of when the Pirates still mattered to me and this town. There will never be another Teke.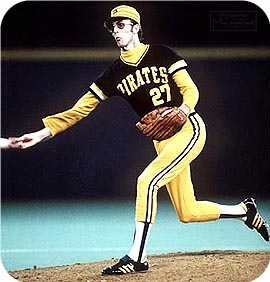 STEVE BEALL:
Mario Lemieux
Although I'm old enough to remember watching the great Steelers dynasty of the 70's and all those great players, when Mario was in his prime, I was actually old enough to appreciate his talents more. Even after his retirement, his continued impact on Pittsburgh sports is greater than that of any athlete who has ever represented the city, or probably ever will. My No. 2 pick would be Clemente.
PAUL:
It is hard to pick just one guy, if I had to pick one it would be Kevin Stevens. Anytime I would pick up a hockey stick that's who I modeled my game after. Neither of us were especially gifted or fast, but we were both big guys who didn't take crap from anyone and it was impossible to get us out from in front of the net. Things like the famous "Brian Bellows YouTube" just further reinforce Ol' Artie as my #1.
1A. Who is your current favorite Pittsburgh athlete?
MIKE:
I'd like to pick some kind of dark horse here rather than the obvious choices. But after wasting too much time on that line of thinking, it's just too hard to deny the two local kings on our sports scenes, Big Ben and Sidney Crosby. Flip a coin to choose between them and you'd end up being right either way. But, I don't want to take that easy way out and say both, so I'll make my choice and go with Ben Roethlisberger (by a gnats eyelash….how's that for things that aren't there anymore!). There is not a more pressure-filled job in team sports than being the QB on an NFL team and he handles it beautifully. All the more credit to him because he did not necessarily handle himself well in his first 2 years here. You heard the stories early on about Ben: that he was a slow-learner, that he was not fond of studying game films, that he was a "game-manager", etc. To some extent I suspect some of those stories were true then, but certainly not anymore. Whether it was just him maturing or maybe even his motorcycle accident giving him an alarming perspective on his life/career , but after he got through the very rough 2006 season, you could see the change in him. Not only on the field, where he alone has been the reason for several victories both last year and this year , but off the field. Listen to a post-game interview with Ben. He always credits the other guys on the team, even lying if he has too (e.g., "my offensive line really did a great job tonight…wink-wink-nudge-nudge know what I mean"). I like it when a talented ath-e-lete (get out of my head Namath) doesn't rest on his laurels and talent alone but actively works to make himself even better. Ben does that and brings out the best in his teammates as well. [Honorable Mentions: Sidney Crosby (obvious reasons), Matt Capps ("oh no, he's becoming a strong closer….we have to trade him FAST!"), and Hines Ward (Mr. Steeler)]
CHRIS:
Hines Ward. He epitomizes what a tough athlete is. He goes above his job description and hits people downfield. And he's shattered every Steelers receiving record. Not just saying that because of his hits this season. Oh yeah, he's also clutch.
HONORABLE METION: Sidney Crosby
STEVE BRABAND
:
Darnell Stapleton. Kidding. I would have to declare a tie between Sid and Big Ben.
Both are young and the centerpieces to the Pens and Steelers respectively. We have many titles coming our way because of these two men.
GREG:
Sidney Crosby without question. The Penguins are the current "sexy" choice among Pittsburghers right now and Sidney Crosby is not only the face of the Penguins but the NHL. His intensity and ability are too special to pass up.
JOHN:
Once again, I really don't have one. But I'll say point guard Levance Fields from Pitt's basketball team. He's just a gritty leader that seems to play well in big situations... all while enduring an endless stream of taser jokes from opposing student sections.
BRIAN:
Hines Ward. Despite his occasional surliness and "nobody believed in me" comments, Hines plays hard every single game. In an era filled with TO, Plaxico and Ocho Stinko in the prima donna wide receiver position, Hines plays it the way a Steeler should. While that sounds like such a cliché, it is totally true. My favorite Hines play-- 2004 versus Philly at Heinz Field. On a reverse, Ward is about two score, but two D-backs are on the goal line. Ward goes airborne into the end zone and gets hit by both D-backs. Ward gets into the end zone and the camera catches Ward with that huge grin on his face while he's in the air getting hit! Great stuff.
STEVE BEALL:
Current Favorite Athlete: Evgeni Malkin
This one is tougher because if I was asked a year ago, it would have been Crosby, or even Hines Ward, yet something about Malkin makes me want to root for him more than other local athletes. Maybe it's that he doesn't get the attention (unless your Ovechkin), or headlines that others do, or that he doesn't yet speak English well enough to feel comfortable around others and displays a "fish out of water" personality that only an awkward transplant from Russia could. Who knows, but how can anyone not root for this guy to succeed? He still does enough to tick me off from time to time but it's not necessarily about what he does, but what I still want to see him do that gets him my vote.
PAUL:
Currently I would have to say Hines Ward. I went to college in Cleveland and a large portion of my good friends are Browns season ticket holders. There is no person that makes their blood boil the way Hines Ward does. Think about it. A Steelers' defender gets crushed by a receiver who doesn't do or say anything except for smile and jump around. Then that receiver scores a crushing touchdown against you. And he is still smiling. Then he goads one of your linebackers into a 15 yard misconduct penalty. And he is still smiling. If he didn't play for the Steelers we would hate him and that's why I love Hines Ward.
2
. What is your all-time favorite venue to watch a sporting event in Pittsburgh?
MIKE:
This is a tough question. Among the Pens, Steelers, and Panthers (football), I've never really been enamored with any of their venues. I never made it to Forbes Field either, which so many 'burghers love. PNC Park is certainly great to watch a game, but I think you have to factor in the non-existent atmosphere at the park. The pierogi races and hot dog launchings should not be the emotional high points of a game. No, I can't say any of the above are my favorites, I'll have to go with the Peterson Events Center, even though I've only been there twice. Great atmosphere, great sight lines to watch the game, Pitt plays so strong at home, and you get that college "rah-rah" electricity that makes for a lot of fun. Hail to Pitt!! [Honorable Mention: CONSOL Energy Park where the Wild Things play. I always have a good time there].
CHRIS:
Heinz Field. I never went to too many games growing up in da Burgh, so my answers are limited. Three Rivers was good but practically fell apart at the end. I was on the field for the last game at Pitt Stadium. That should probably be #1.
HONORABLE MENTION: Fox Chapel High School Stadium, before it got renovated.
STEVE BRABAND:
Three Rivers, without a doubt. Watching the stands actually shake and move up and down was completely awesome. No place will ever be as loud as Three Rivers.
Maybe it's just me but, weren't the nachos like ten times better there!?!?!
GREG:
Heinz field, there is nothing like a late October game with a little chill in the air and 70,000 people twirling terrible towels and chanting "Here we go Steelers, here we go". A close second would be playoff hockey at the Igloo.
JOHN:
I could go with childhood memories and say Three Rivers Stadium or the Igloo, or I could go with the "success" factor and say either of those two or Heinz Field, but I'll say PNC Park. People say it's the best park and baseball, and I still think they're selling the place short. I'm not even trying to be funny when I say that it takes a REALLY special ballpark to make the normally torturous experience of watching the Pirates enjoyable, but it does just that.
BRIAN:
Heinz Field for a Steelers playoff game. There's nothing like it. There's such a great communal effect of living and dying on every play with 65,000 other people. Case in point- January 2005 versus the New York Jets. When the Jets missed the field goal to win the game, the man next to me was bawling like a little kid. As great as the Penguins run in the playoffs was last year, you just can't recreate that kind of atmosphere.
STEVE BEALL:
Favorite Venue: PNC Park
Yes, sadly, it is PNC Park. Why sadly? Because how can such a great place to spend the day, or evening, also contain what will go down as the worst team in baseball history. Yet even with that horrendous team, it's still one of the best venues in the country (of any kind) to see a sporting event. I guess the Pirates were right, it is about the food.
PAUL:
Having grown up going to games with my Dad on random Saturdays at old Pitt Stadium, and going with both my parents to watch the Pirates win divisions and lose the LCS year after year (seems like lifetimes ago) in Three Rivers, it is hard to pick between the two. Then you throw in all the great games we went to/are still going to at Mellon(Civic) Arena and its a three way tie. 1A. Pitt Stadium 1B. Three Rivers 1C. Mellon(Civic) Arena.
3. What team would you consider your most hated rival of a Pittsburgh team?
MIKE:
If the Pens only played them once or twice a year then I'd say the Flyers. But in football, since you only play another team once or twice a year, this develops a more passionate "it-all-comes-down-to-this-one-game" bitter hatred than what you would find in hockey/baseball/basketball. I hate the Flyers, trust me, but if we lose a game to them, well, we only have 7 more games to get back at them in a season. That kind of takes away from the do or die bragging rights that go along with rivalry games. So with that said, I'm looking at the football rivalries, and there is no team I hate more than the Ravens. Maybe it's because of Ray-Ray's pregame dance routine, maybe it's because the stain of Brian Billick's smugness remains, or maybe it's because their fans are complete and utter as#####s. It's the two games a year I desperately want the Steelers to win. [Honorable Mentions: Flyers (noted above), Browns (if they ever get good again, they could supplant the Ravens), WVU (if the question was, "not counting Super Bowl XL, what was the most satisfying win by a Pgh team in the last 10 years", it would be Pitt's win over WVU last December.]
CHRIS:
Philadelphia Anything. Philly still sucks. F' the Phillies.
http://www.phillysucks.com/
HONORABLE MENTION: Baltimore Ravens. The new football rivalry.
STEVE BRABAND:
Has to be the Browns because of the history and bad blood. But....... I am starting to hate the Jacksonville Jaguars more than any team in the league. They beat the Steelers twice at home last year and bounced them out of the playoffs. We have played them the past 5 seasons and they have always been a pain in the ass. We got some revenge two weeks ago though!
GREG:
This was the hardest of the questions to answer for a number of reasons. I am going to go with the Flyers. If the Browns, Ravens or Bengals were half decent I might have gone with one of them. But, being that the Pens beat the Flyers in the ECC last season I have to go with them. Plus it give us the state bragging rights. If you are a Penn State grad you will agree that there is nothing better than watching Philly fans make excuse after excuse about not winning championships (knock on wood) and complaining about "Cindy Crosby diving"
JOHN:
Hmmmm... well any baseball team is out because it's really tough to have a rival when you've been bad as long as the Pirates have. Penn State would be ideal for this distinction because of their rivalry with Pitt... but only if this was 25 years ago. And WVU has always seemed to hate Pitt more than Pitt hates them. And the Flyers are definitely up there....
Oh man, who am I kidding? C'mon, you know it, I know it, it's the Browns. Sure the Ravens have given the Steelers a challenge more consistently than the Browns (either incarnation) have recently, but there's something about Cleveland that's just so fun to hate. And, the rivalry might not be as heated right now since we've beaten them a zillion straight times, but just wait until until the day that Cleveland finally has some success. They will become so unbearable that you'll want to stab every Browns player and fan in the eye with a pencil. It will quadruple the hatred we've had for the guys from Baltimore, I guarantee it.
BRIAN:
Philadelphia Flyers. Most of this is rooted in my time at Penn State in the mid-nineties. I've heard other people say this, but that is where I discovered how despicable Flyers fans are. I always got the impression that Philly people look down their nose at us and think Pittsburgh is a hick town compared to their "big city". It also doesn't help that they've had a long cast of villains associated with their team, from Bobby Clarke to Mike Richards. Bottom line, there was nothing like watching Kasparaitis knock Lindros into the next week, or us sweeping them in the regular season two years ago, or beating them in the Eastern Conference finals. I'll always be a member of the "I Hate the Philadelphia Flyers Club".
STEVE BEALL:
It's gotta be the Flyers. Years ago, one could have argued the Browns easily, but ever since the original team moved, I've felt more pity than angst for the Clowns and their fans. Plus, they are so bad anymore that it's hard to have a rivalry against a team you've made your b!tch. The Ravens are more of a rival than the Browns anymore, but there isn't enough bad history with that team yet...it's getting there though. There's also the Patriots but the same goes for them...not enough history. The Pirates have no rivals, or equals for that matter, they are simply the worst. The Flyers and Pens have probably the most heated rivalry in hockey, so you just know those games will always be special and living out in Flyer land like I do, it makes it even more of a rivalry for me.
PAUL:
Until the Browns become competitive again I would have to say the Flyers. Everytime I watch the Pens play the Flyers I want to fight Mike Richards. I can't say the same thing about Derek Anderson and the Browns, because the games just aren't competitive and haven't been for some time.
CHECK BACK LATER TODAY FOR A NEW PANEL WITH NEW QUESTIONS!

Many thanks to our panel for their participation.