--The one-man-gang known as "ManRam" takes down the hapless Pirates, 8-2. To add insult to injury, Juan Pierre hit his first home run in more than 1,000 at-bats. Look on the bright side: the season's almost over. [
Trib
]
--So what is it, Sarah Palin: are you a Seahawk fan or a Steeler fan? [
SPORTSbyBROOKS
]
--Speaking of Sarah Palin, her portrayal by Tina Fey stole the show from Michael Phelps on
Saturday Night Live.
[
Deadspin
]
--Mike Ditka's restaurant is coming to Robinson Twp., and will eventually face off with Bettis' Grille 36 for the title of Greatest Pittsburgh Restaurant Affiliated With a Former Football Player. [
Pittsburgh Business Times
]
--The pinball world championships recently took place in Carnegie, and ESPN did a feature story. Take a look at this place! Who knew? [
ESPN.com
]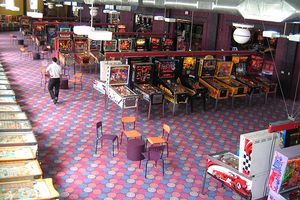 --Here's a list of 1,000-yard rushers you'd rather forget. I don't know, I had a few
good
memories of Barry Foster. [
on 205th
]
--Smooth move, DeSean Jackson. Only a couple million people saw it. [
Kiss 96.1
]
--Penn State-Illinois will be the ABC prime-time game on Saturday night. And unlike last Saturday night's ABC primetime game, the Big 10 will be guaranteed a winner this time around. [
Trib
]
--The Bengals' website is finally listing "Chad Ocho Cinco". By the way, he's got a grand total of five grabs for 59 yards for his winless, basement-residing team. I'm sure people would've been
rushing
to buy those jerseys. [
Bengals.com
]
--Ashton Kutcher coaching freshman football? Where are the
Punk'd
cameras? [
LA Times
]
--Here's the five most baffling spin-offs in TV history. Gotta agree with
Golden Palace.
[
Cracked
]
--Stern fans: here's the video of Sal the Stockbroker and Richard Christy pretending to make out in the background of a CNN broadcast on Monday. [
Live Leak
]
--Who are the 80 most powerful people over 80, and where is Joe Hardy on this list? [
Slate
]
--Where are homes selling fastest, you ask? I don't know, but I'm going to guess that Pittsburgh isn't on this list, despite the presence of a first-place football team. [
Yahoo!
]
--MTV's Total Request Live ends its 10-year run in November. Somewhere, Britney and the Backstreet Boys shed a tear. [
Yahoo!
]
--My W&J Presidents moved to 2-0 with a 49-21 dismantling of Frostburg State. That's 98 points in two games, for those of you scoring at home. [
Washjeff.edu
]
--And the St. Vincent Bearcats, featuring my very own cousin as the punter, win their first game in 46 years, 23-22, over Gallaudet. (The program was rebooted last year after a long layoff, but it's still cool to say "first win in 46 years" whenever you have a chance). [
Stvincent.edu
]
--For those of you watching what you eat (that would be about two of you), here are 20 superfoods for weight loss. [
Shine
]