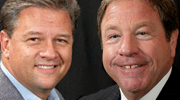 From 1981-1991, Savran worked at WTAE-TV as a sports reporter and anchor while simultaneously hosting a sports talk show on WTAE-AM in a slot following the legendary Myron Cope.
Together, the pair worked together at WTAE and FSN for more than 18 years before their recent reunion.
I had a few questions I wanted to ask regarding their careers and their new direction, and they graciously granted my request for an interview. What follows is a transcript of our recent sit-down that took place in their studio just minutes after a taping of their show last week.
First of all, I'm from Pittsburgh, my family was all steelworkers, and I grew up on the South Side. I remember filling in for Stan very early in my radio career on a holiday. And I don't remember the holiday, and Zivko Kovalcik called. He called himself "The Mayor of the South Side", and he really wasn't from the South Side, I don't think…he was from Squirrel Hill. And he said, "Where you from? You're not really a talk show host or accepted until I call you!"
And I said, "I'm from the South Side for real,", and he said [apologetically] "Oh. Ohhhhh."
So two things: I think being a native person (I'm a Yinzer), and the other thing is, I think was sitting next to Stan for all these years, who was so established and respected.
And I thought another shoe was going to drop, with him setting me up for something. I said, "What are you talking about?"
And he said, "There aren't too many guys in this town who can sit out there every night on TV and hold their own with Stan. He's an encyclopedia. And you do it."
So two things: being a home guy, and all those years of being able to work with Stan, who was established, proving to people that I knew what I was talking about.
Number one, I'm flattered that I'm respected. That matters more to me anything.
We don't have to do that as much today unless it's a breaking story. But I think what people do want of you and expect is insight. YOUR take on a specific issue.
One, I think if 10 people watch a football game, I think what sets people apart is that a guy I'm watching comes up with a point of view that I hadn't thought of. That, to me, is insight.
Number two, I think that a lot of people listen to the shows like ours because they want to validate their own opinions. And if they're arguing with their buddies around a water cooler or lunchtime or whatever, they say, "Well, you might think that that's wrong, but Guy Junker agreed with me," and all of a sudden, that carries a lot of weight. And I do think that's the value of shows like this. I think people want OPINION. They want TAKE. They want INSIGHT. And hopefully that's what we give them.
We thought we'd get the old Pitt-Penn State [banter], it was kind of a boring day at Steeler camp; we got nothing. Hour and 15 minutes, not a call, not an email, nobody seemed interested. So what I like to do is look at the blogs to see what people are talking about on that particular day. I've gotten burned with information that seems like it's reliable on there, so I try not to use any hard fact information, just use it for the opinion. Sometimes I think it's fun, although sometimes I think you find yourself getting totally ripped on some of them, and that's never an easy thing.
And I always conducted shows like that. I mean, I shared a lot of my personal life with those people. When my parents died, it was a topic.
And I said, "I want your opinion…I find myself openly rooting for them to win the Stanley Cup," and I said, "That's not my job."
People called in and offered opinions, and finally, I said, "You know what? I finally decided that I wanted them to win the Stanley Cup so bad that I can't stand it, and I'm not going to hide it. Hopefully it won't affect my objectivity."
But that's how emotionally attached I got to that team. That was just the greatest.
Covering, for me it was the '79 World Series. For one, because baseball's always been my favorite sport, and I was only a year out of college. I was making $100 a week, and this little radio station in Beaver County sent me to Baltimore and I'm there talking to Bob Prince and all these people that I've only watched, read, and listened to, and I'm thinking this is the greatest thing in the world. I'm in the locker room at the World Series, I love the Pirates and I love baseball, and the seventh game of that series when Eddie Murray hit that line drive that Dave Parker slipped and fell, I literally almost wet my pants. I'm not kidding ya. It was so exciting to know, especially after the last out, to know that in the next minute I would be in the middle of all that fracas in there. And because I was so young.
---
Thanks again to Stan and Guy for taking the time for this interview. Below are a few Stan and Guy links for additional information on the duo and where to find them.
---