For those of you who couldn't stay up to watch it, Petr Sykora
scored the game-winner at 9:57 of the third OT on Monday
night, sending the Stanley Cup Finals back to Pittsburgh with the Penguins closing the gap to three games to two. The goal was on a power play and was set up by an ailing Sergei Gonchar and Evgeni Malkin.
Sykora allegedly "called" his scoring of the game-winning goal in OT number two, as reported at the time by NBC's Pierre Mcguire. The series was actually 35 seconds away from ending when Max Talbot scored the tying goal in regulation while playing with an empty net. The Pens were outshot 58-32 on the night, so Marc-Andre Fleury was the obvious #1 star with his incredible 55 saves.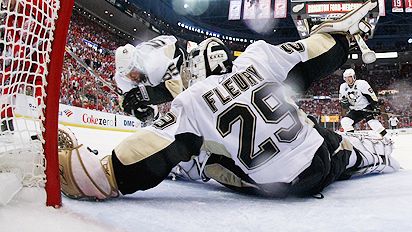 Pittsburgh, Detroit, and hockey fans everywhere will be in a collective fog on Tuesday, so we'll pick up the discussion with much more coverage of this late-nighter once the sun rises. The game ended as the fifth-longest Stanley Cup contest in NHL history at 109:57. It was tiring just to watch let alone play, so I'm sure the Pens will be catching their share of Zs between now and Game Six.