As part of the sweeping changes in store for Mondesi's House this year, I'm happy to announce a new feature: Jim Colony's Extra Points. As you know, Jim is the drive-time sports announcer for
ESPN Radio 1250 in Pittsburgh
. And he's such a nice guy that he's agreed to share the transcripts of his Extra Point segments, which you can hear regularly on 1250. So whenever possible (or whenever Jim feels like sending them), we'll be able to share in the wisdom of a man that spars with Mark Madden on a daily basis. Enjoy!
JIM COLONY'S EXTRA POINT
This isn't an actual "Extra Point", since the already recorded Friday one was about Bob Knight being the latest guy who used to hate the media to join the media (see Parcells, B. and Sharpe, S.- Sterling, not Shannon). And Knight is really good, as you knew he would be. It's impossible to not stop and listen to him because Knight is one of the - if not the - most compelling sports figures of our time.
But as a basketball afficionado who is consistently frustrated by Pitt (annually the worst "really good" team in America), I come before you now to not bury the Panthers, but to praise them. That was a huge win against Louisville.
While Pitt's familiar 5th and 6th grade-level problems persisted early on - inability to beat the press by failing to keep a guy behind the ball and missing free throws - they made up for it by finally playing some defense. The swarming double-teams in the post clearly disrupted Louisville's offense and was the kind of defense that has landed the Panthers in the Big East Championship Game more often than not in recent years.
There is a school of thought that making a run to that conference title game can be counterproductive come NCAA time...and that may have been true when Pitt was an obvious top-4 seed. But with the Panthers
projected as an 8-seed by ESPN's Joe Lunardi
(even though he had them as a 7 before they beat DePaul), it's important to get away from that 8-9 line, since I think somehow they'd draw North Carolina.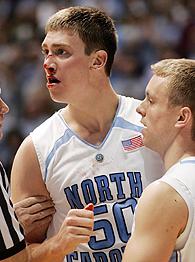 Pitt has been slighted in the past, but even before the two Big East Tournament wins, the Panthers were 24th in the RPI...which by the book translates to a 6-seed (but Pitt fans know how that goes). Since they just beat Louisville (projected as a 3 across the board), that has to help. Plus, not to sound like Jamie Dixon, but Pitt has now won 5 of 6 (and they also know all about
Edgar Sosa
because they recruited him).
One more win secures a 7-seed and probably a 6, which is where the Duke and Georgetown wins could come in handy, but as we've seen, you never know. Then again, it may not matter that much. Among the top 1-2 seeds, whom do you fear?
Pitt can't play UCLA in the second round (since the Panthers played them last year) and they can't play Georgetown or Duke (which is probably too bad)...which leaves North Carolina, Memphis, Tennessee, Kansas, and Texas.
I don't like the Panthers chances against Carolina or Texas...but anyone else? All of a sudden, they could be back.