News and Notes
--Pitt beat the feared Friars from Providence last night, 82-63, at the Pete. Levance Fields talked about suiting up, but ended up missing another game. Let's hope he's in uniform this weekend for Marquette.
--I'll be in New York next month for the Big East Tournament. I'm suggesting a Mondesi's House get together at the makeshift Pitt bar across the street from the Garden. Hit me up with an email if you're interested in this.
--For the first time ever, the Pitt women (#15) were ranked ahead of the Pitt men (#21). They showed their appreciation for this recognition by losing to #16 Notre Dame by 15 points.

A Mosh Pitt Top Ten
A pretty popular thing to do here at la casa de Mondesi is to compile a list. I, for one enjoy Big Snack and Diego's weekly top 10 lists, or Raul's Deadspin columns. But for my article, it's a lot like drinking boxed wine. It's gonna be cheap, but I'll get the job done.
Pitt's recent down-to-the-wire win against WVU got me thinking...not about whether or not Pitt is more classy or has better athletic programs than WVU. Nope. That's a given. What I was wondering is, just how much better are we? I think the following Top Ten list will help answer that question.
I love the thought that WVU lost this game because Bob Huggins is bit of a jackass. His ripping of his own player after and during the game was ugly, period. I guess karma is a bitch.

#9
Football National Championships.
Pitt – 9
WVU – 0
I know Pitt hasn't won a title since 1976. I know most of those national championships, (8 of them), came before 1937 and five of them were shared. But I'm willing to bet there are hundreds of thousands of WVU fans who would be elated with
one
national championship in the last 32 years. Like say in
'93
or
'88
. Or in '07. But we'll get to that later.

#8
Pitt is an all around better school, academically, than WVU
Pitt has world renowned hospitals and the 18th ranked medical school in the nation. West Virgina isn't in the top 25, just like their basketball team. Pitt doesn't have as many Rhodes scholars (five) as WVU (25). But we've had two in the last four years. WVU has none in the last 10. Also a well known fact, WVU admits anyone who can fill out their application. In crayon or otherwise.
#7
The Pete vs. The Coliseum.
Not even a contest. The Coliseum plays the dungeon to the Petersen's palace.

#6
This one involves another Pete: Pete Gonzalez.
The 1997 Backyard Brawl was one of the most intense in the history of the rivalry (until 2007, of course). This win got Walt Harris and his gang into the Liberty Bowl, Pitt's first bowl since 1989. The stacked WVU team had 11 future NFL players, including Marc Bulger, Amos Zereoue and Jerry Porter. At 9-4 that season they were quite the disappointment.
#5
He wasn't able to bring a national championship home, so in my mind, he's going to be remembered for one thing, and it's not any one of the multiple offensive records he set at WVU.
Ladies and gentlemen, the growling Pat White.

#4
The 'Stache may not be the best game-day coach, but he's one hell of a recruiter. Oh, and one other thing. He would never kick his alma mater when they're down as hard as one Rich Rodriguez.
Did Michigan bring in Rodriguez just to get Pryor to be a Wolverine? Think about it, they forced out a coach who lost to a 32 point underdog to bring in a coach who lost to a 28.5 point underdog. Even worse, that game was for a trip to a national championship game. If Rodriguez can't win the big one against Pitt, how do you think he'll handle the pressure of Michigan/Ohio State?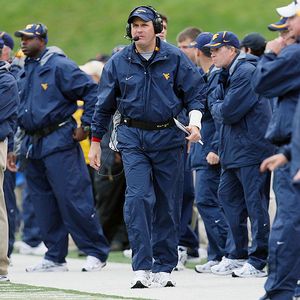 #3
The return.
We miss you, Darrelle Revis.

#2
Could there be a dirtier place than south Oakland?
You betcha'. And the answer is: Morgantown. True, you might need a tetanus shot to live in South Oakland, but just a couple minutes away is one of the most culturally diverse cities in the country. There's only an occasional riot (see: Steelers, Super Bowl) but they're mostly just partying and a contained fire. Mo'town, on the other hand…well…

#1
13-9.
OK guys, I'm out of here. Drop me an email with any suggestions or comments. Until next time, Hail to Pitt.