The NHL trade deadline, set for Tuesday afternoon, is upon us. It's an exciting time of year for Penguin fans who are excited at the prospect of grabbing some new talent for a cup run. This year, as always it seems, we're probably looking for a pure scoring winger or a tough-minded defender who can move the puck, and we decided to bring you guys a list of the 10 players we'd like to see our boys go after.
Of course, with the way we've been playing lately, who knows if Ray Shero will even make a deal; all we know is trying to figure out who's in and who's out is half the fun...
So enjoy, but keep in mind, we may or may not mention if a player has a no trade clause - it's not because we don't know, it's because it's really irrelevant since they're usually waved if the chance to join Sid and Geno presents itself, a la Gary "Pops" Roberts.
10. Tomas Kaberle - Toronto Maple Leafs
Kaberle is an interesting case right now, as he hasn't "officially" been put on the block or linked to the Pens in any of the millions of trade rumors floating around. We just happen to think he'd be a great addition to our blue line, seeing as he moves the puck well and would be a great role model for young Kris Letang. Hell, he's only 29; he could be Gonchar's replacement before Gonchar even leaves. We can never have enough guys who can skate through the neutral zone and make plays, and he can score too. His 39 points are the 12th most points for a defensemen - so he's no slouch.

9. Glen Murray - Boston Bruins
Murray has been linked to the Pens, but he would probably be a "rental" player, which is why he's so low on our list. He can definitely score, but he's old as dirt, and with our young nucleus of talent, do we really want to mortgage our future by losing a Jordan Staal or Angelo Esposito?Just throwing those names out there, we have no clue what it would take to get Murray. But for a one or maybe two year run at the Cup? I don't think so...

8. Alex Tanguay - Calgary Flames
We know this one will never happen. We do. But wouldn't you love to see him on a line with Sid the Kid? They both might top 100 points. He's a scoring winger, averaging almost a point per game for his career, and I'm sure Jarome Iginla has taught him a thing or two about physical play. He'd have to waive a no trade clause to come, and Calgary's GM would have to be smoking something, but who knows? I mean we all saw that Ricky Williams for all the Saints draft picks trade and the infamous Aramis Ramirez giveaway from the Buccos, so crazier things have happened...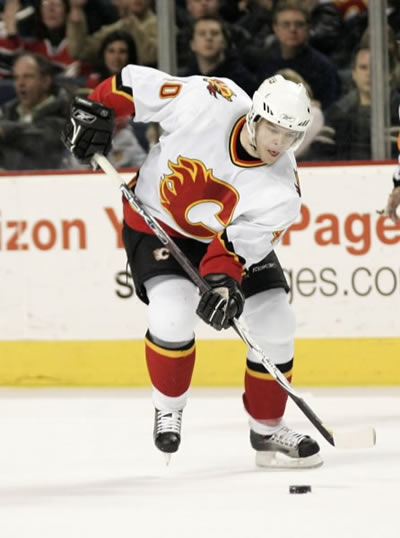 7. Martin Havlat - Chicago Blackhawks
Havlat likes to get injured, "most often in the form of groin strains" (from Wiki), but he can still put the biscuit in the basket. He's also been suspended for some questionable play, which is surprising considering he's a "dangler" - someone who's known more as a skilled player then a gritty, grind it out type. The biggest concern on our part is the report we read said Jordan Staal would have to be included in any trade for him, so it's a HUGE risk for us...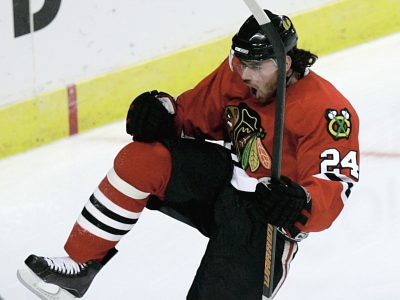 6. Corey Perry - Anaheim Ducks
Perry is a youngster who is definitely on the rise. We heard this one as a second hand rumor, but we still think he'd be a great fit. He has the potential to be a great scorer (he, along with fellow young gun Ryan Getzlaf tore up the AHL after being sent down in 2006 - to the tune of 67 points between them in a combined 36 games played); and is in the same age class as Malkin and Crosby. But, like before, I would imagine the Ducks would want a king's ransom in return. You have to figure out if you like him before realizing what it would take to get him.



5. Mats Sundin - Toronto Maple Leafs
Mats Sundin is a veteran player in the NHL who spent his entire career playing in Canada. We here at PNA (not necessarily Mondesi) think that its time he move down to the good ole US of A. The Swede is kinda old and lord knows we have a lot of centers, but Sundin's talent is being wasted on a crappy Toronto team this year. Plus, it never hurts to add a 500 goal scorer (and a right handed shot) to a team thats trying to make a deep playoff run. Mats' name has been floating all over NHL trade rumor websites so chances are he is gonna be on the move come Tuesday. Why not bring the big guy (6' 5" 235 lbs) to the Burgh?


4. Mike Cammalleri - Los Angeles Kings
Cammalleri plays on the Kings, the worst team in the entire NHL. He might just be a lil guy (only 5'9"), but he's excelled despite his size. A scoring center by trade, Cammalleri has excelled this year by also been playing some left wing. At 25, he is still a young, talented player with plenty of upside. The Kings need all the help they can get as the forseeable future isn't looking to bright for their team. I think Camm would be a nice fit in the black and gold and would add energy and scoring to the Penguins.


3. JP Dumont - Nashville Predators
Although Dumont has not lived up to the expecations that go along with being a 1st round selection (he was drafted 3rd overall in 1996 by the Islanders), he's already tied his career high in goals this season with 23. So maybe he's finally finding his groove in his 9th NHL season. This late bloomer would look good skating out there on Sid the Kid's line at right wing. Coming to Pittsburgh could resurrect JP's whole career - people will love him again and he will be a really big deal and his kids will no longer be forced to live in shame.
2. Marian Hossa - Atlanta Thrashers
Hossa could be another one of those "rental players", as his contract expires at the end of the season; he will demand big money if and when hits the open market. But if the Pens make this happen, look for them to try and make him a long term piece of the puzzle (we hope). He's young, explosive and large - much like Geno, Sid and the rest of our young stars. If Shero believes the young guys can make a long playoff run he may want to pull the trigger and make this one happen. Expect things to get hot and heavy on Monday because many teams are interested in adding Hossa to their roster.

1. Jaromir Jagr - New York Rangers

This goofy Czech was already run outta the Burgh once, but he could be just the piece we're missing. He may be older, and would most certainly be a rental player, but couldn't you see him back in the black and gold, leading this team of youngsters to the top with his mullet flowing gracefully out of the back of his helmet? He's having a down year, but we're sure if he came back and practiced with his boys Bob Errey and Phil "the ole 2-9er" Bourque, he'd be back to his old self in no time. Plus, we know every bookie in the city will be happy. They've even opened up his old haunt, the bar formerly known as Pickles (now Hough's Place), where Jagr bought Sam a drink and gave his dog one too on many a night...
Well, there's our list. Feel free to tell us why these trades will or will not go through, and who we left off of here that you'd like to see don the black and gold for our playoff run in the comments section.
And remember, as always, check out Pierogi's N'At for our take on everything sports. Until next week...