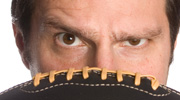 As many of you remember, I became a somewhat-regular guest on Dave Dameshek's
Sports Contraption
show on 93.7 The Man Station last year. Unfortunately, The Man Station suffered yet another identity crisis, as 93.7 reverted back to its
B-94 format
on October 5. So instead of hearing Dave Dameshek or Scott Paulsen, you now get Chris Brown's "
Kiss Kiss
" once an hour (at least that's what I experienced in my sampling of the station a week ago).
That being the case, Dave moved on to greener pastures. And frankly, he's blowin' up. Or blowed up, as Emmitt would say.
But recently, Dave had a conversation that he really thought you, the Mondesi's House faithful, would enjoy:
Last Wednesday, we had Lucky Luc Robitaille for almost an hour - during which time he and I fell very much in love. He couldn't have been a nicer fella. I think your readers would enjoy it because we debate 66 vs Gretzky, and I become quite angry with his response. I also sing a song about Jarkko Ruutu.
You can listen to the audio of the interview
here
.
Dave, a Pittsburgh native, has had a long and interesting showbiz/sports media career, one that's taken him from
The Man Show
to
Crank Yankers
to
Jimmy Kimmel Live,
as well as stops as co-host on the
Adam Corolla radio show
and his 93.7 show. He's always been a strong supporter of Mondesi's House (as he is now turning on his L.A. listeners to it via his
homepage
), and a great fan of all things Pittsburgh. So check out his site and listen to a podcast or 10. It's certainly better than Kiss, Kiss.