When Dan
Steinberg
of the Washington Post's
D.C. Sports Bog
emailed me with this, I couldn't believe it was true. The unintentional comedy scale could possibly go off the charts once this project comes to fruition. Let's go over the ingredients of what he is reporting:
1. Adam
LaRoche
, .216-hitting first baseman of the Pittsburgh Pirates
2. Willie Robertson, the current leader of the famed
Duck Commander clan
and dead ringer for former
WWF
rassler
Hillbilly Jim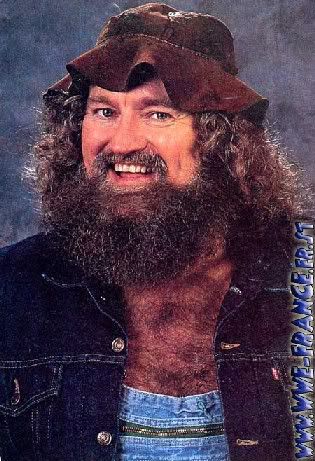 3. A video featuring Adam LaRoche and Willie Robertson.
Willie Robertson, the current leader of the famed
Duck Commander clan
of Louisiana waterfowl hunting icons, was in D.C. for three days, conducting business and also hanging out with Pirates first baseman Adam

LaRoche

and

Nats

outfielder Ryan Langerhans. He left behind several autographed copies of "Duck Commander: For a Few Ducks More," the company's latest duck-hunting DVD.
That DVD has a 10-minute trailer for next year's "Buck Commander," the first in what's scheduled to be a series of deer-hunting videos that will likely feature, among others, Todd

Helton

, David

Dellucci

, Chipper Jones, Mike

DeJean

, Brad

Hawpe

, Aaron Cook, Langerhans,

LaRoche

and several more Major

Leaguers

. Which is noteworthy.
Wow. I think my head just exploded. Video of Adam
LaRoche
deer hunting?
Independently,

LaRoche

had called Duck Commander HQ and requested a hat; the Duck Commander guys had never heard of him, although it would seem that

everyone's

heard of the

Duckmen

, who are famous for their huge beards and wild look.
Well, I guess that would explain
LaRoche's
big, red beard.

"They're kind of the big leagues of duck hunting; any water fowler knows the 'Duck Commander' series," LaRoche agreed.
(For the record, LaRoche has a duck-hunting icon tattooed on his right arm. It's the image of a Drake, which is also the name of his son.)
OK, that's mildly disturbing. Even more...
So Robertson reached out to LaRoche to discuss this deer-hunting project, and the family of players kept growing; the Buck Commander folks have also been in touch with J.D. Drew and Jon Lieber and Aaron Fultz and Roy Oswalt; "pretty much everybody who hunts in the Major Leagues, we've contacted," Robertson told me. They launched the company in the fall and had thoughts of putting out the first feature-length DVD this spring, but decided it would be best to tease it now and come strong in 2008, after a full offseason of taping.
"It's got a chance to be a pretty big deal, and the best part is, the guys that are in it have a passion for hunting," LaRoche said. "Baseball's so short. Later on, [hunting's] something we'll have to play around with."
At his current pace,
LaRoche
could have plenty of free days for hunting coming up.